Your Instructor
Ayse Durmush: The Transformation Expert, is a Mindset and Business Consultant.
In her 20+ years in business she has worked with 4 of the largest corporations in the world including Google, Apple, Sony & Microsoft.
Waking up paralyzed from the neck down one day, she transformed her life through her own groundbreaking mindset training, which she now teaches to over 1,000 entrepreneurs worldwide.
Her work has appeared globally everywhere from GQ, The Independent, NBC, CBS & the Fox News.
Her meditations have had over 70,000 downloads. When she's not traveling the world, she spends her time at home in London.
THIS COURSE WILL GIVE YOU:
A crystal clear vision of exactly what you want in life!

An unshakeable confidence that you are on the right path

The confidence that comes with living a life on purpose.

If you follow this course you can have ALL of this done in a weekend.

  Watch Pro
---
WHAT YOU GET:
---
4 workbook PDF's taking you through essential vision, planning, understanding what makes you unique and what excites you.
2 EASY TO USE Spreadsheets (Excel & Google) to effectively capture all the information you.
6 short videos walking you through every the entire process STEP-By-STEP.
You'll learn how to create the life of your dreams with the following:
Your purpose
What excites you
What you need to do daily
Manage your mood
Stop others getting in your way
Master your busy mind
PLUS my own personal goal setting methods and an exclusive Visual training to embed EVERYTHING you have learned.
Testimonials
"When the pandemic hit, my business collapsed. I was really at a loss as to what to do. I was stressed and panicked! Then I heard about Ayse's course Dream Life Formula and I knew instantly it's what I needed. I bought it straight away and got to work. And I am SO HAPPY I did. The course helped to give me the tools I needed to manage my life and business better, so I wasn't going round in circles panicking all the time. It also meant that I was able to focus more and finally get much needed clarity, helping me to pivot to a new business model. If you're hesitating to get this course, don't it saved me in the worst of times! I can't thank Ayse enough."
Sandra Kern, Entrepreneur
"Before working with Ayse, I was spinning my wheels in my business. For months I had been trying to work out what was wrong and couldn't come up with a solution. I was working all the hours God sends but money seemed to be flowing out of my business and barely coming back in. I was panicking that with that continued rate of loss I would have had to get a second job just to pay my bills.
But Ayse changed all of that. In just a few months of working with her I was able to plug the gaps in my business and come up with a sustainable plan that gave me drive, focus and clarity. Her ability to see the big picture and how all the pieces come to gather was huge. She's only little but she's a powerhouse and I'll be forever grateful for her help and support."
Sara Wooley, Executive Life Coach
"I had lost all hope in my business. After years of trying coaches and mentors and training I just never seemed to get anywhere. I was always in a famine and feast cycle, living from one contract to the next and it was exhausting. I came across Ayse from a meditation app and loved her approach to mindfulness.
 Working with Ayse was hands down the best investment I made in my business. She helped me to restructure how I ran my operations and I went from 3k months to 6k in just 90 days. Now for the first time in 7 years, I'm excited to go to work every day and I'm already on track for my biggest launch yet. All I can say is, if you are on the fence, leap off, Ayse has a magic touch that will transform your business."
Martina Clay, Online Coach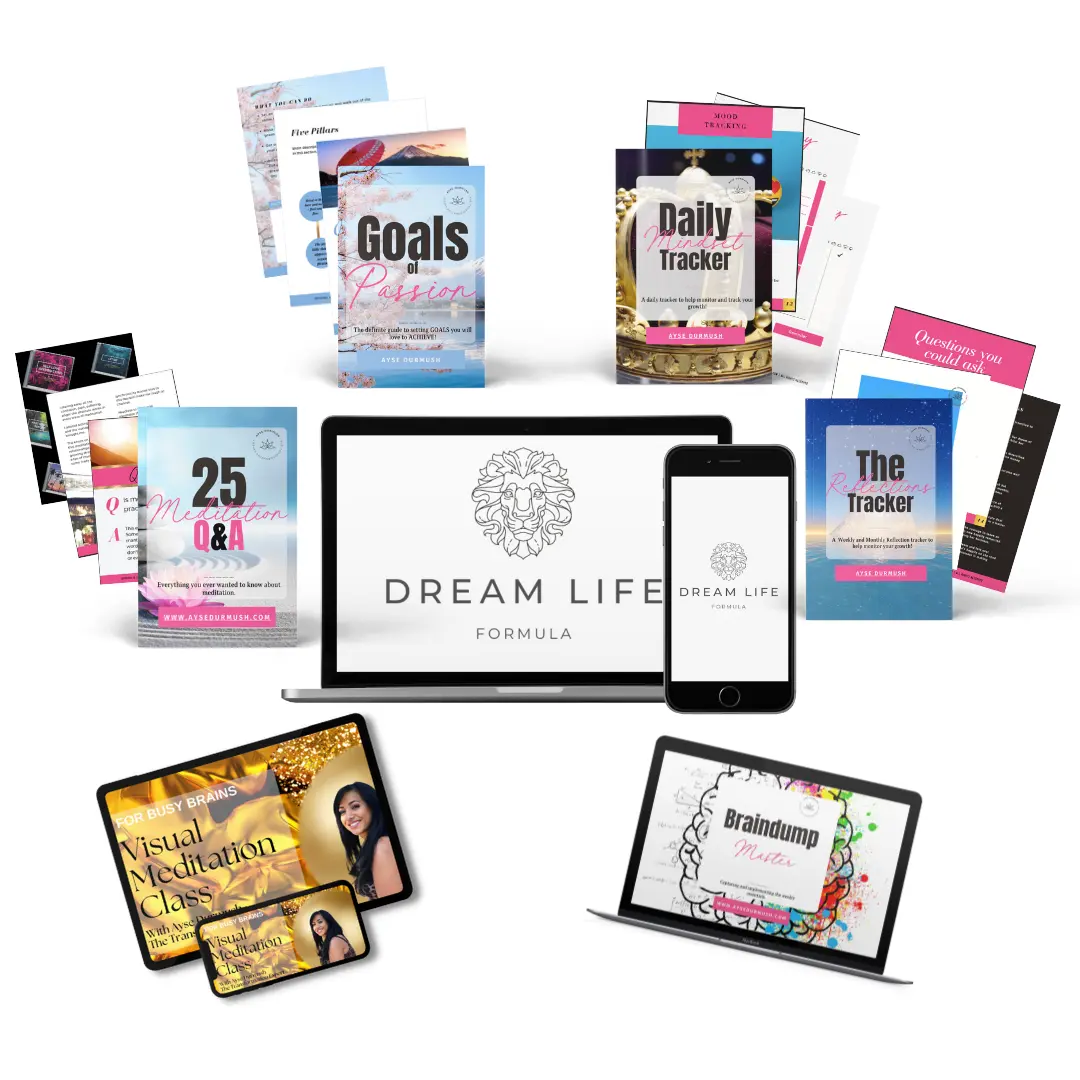 WHAT'S INCLUDED?
5 EASY TO DIGEST VIDEO TRAININGS
This is a meaty topic, but I've broken it down into easily digestable information to make this training stick.


EACH MODULE HAS ITS OWN COMPREHENSIVE WORKBOOK
These are not just 1 or 2 pages, I give you the absolute essentials on each topic so you can learn and implement the teachings with ease and confidence.


LIFETIME ACCESS ON ALL DEVICES PLUS ALL FUTURE UPDATES
Of course, you also have lifetime access and that includes all future updates to the training and access on all digitial devices, forever!


THE BEST FOUNDATIONAL TRAINING AT AN UNBEATABLE PRICE
This is the most accessible way for most people to work with me, and the price is obviously phenomenal.


SAY GOODBYE TO STOPPING & STARTING AND HELLO TO THE LIFE OF YOUR DREAMS 
My ultimate goal for you is that you finally learn the tools you need to build the life of your dreams and start to live it!
PLUS over $400 in BONUSES!
LOCK IN THIS GREAT PRICE WHILE YOU STILL CAN. IT WON'T LAST FOR LONG!
What's standing in the way of you finally getting clear on what you want in life and the clear actions steps on how to get it.
Making those much needed changes in your life so you aren't dreading getting up every day.
To get to write that book, travel the world, lose that weight once and for all!
 What's stopping you from being the success you deserve to be?
I know that this is not an easy task to take on and the improvements won't happen over night.
But I can assure you that having these tools in place and implementing the lessons WILL help improve the quality of your life and those around you no end.
This is your foundation that everything else can be built on.
One Time Payment Of $27.00
YOU ARE PROTECTED BY A
30 DAYS MONEY BACK GUARANTEE
I am a small business owner just like you. I understand the risk you feel when deciding to invest in a digital product. You work hard for your money and don't want to waste it on something that doesn't meet your needs.
I am extremely proud of the products I create and I know anyone who buys them and implements them will be thrilled with their purchase.
That's why I am offering a 30-day money back guarantee. While I can't guarantee that you'll always hit every goal you ever set again, I can guarantee your satisfaction with the quality of this product and the time it will save you in the long run.
Of course, if you are not happy with this product and you meet the requirements for refund, then I will refund your money within 30 days of purchase.
Ayse Durmush
CEO & Founder
FAQ'S
Q: How do I access the training?
A: As soon as you sign up, you'll receive an email with your login details to my private VIP portal.
Here's where you'll be able to access all the training and your bonuses in one convenient location. If you have any issues at all please remember my team are available here. Just an email [email protected]
Q: How Long do I have access for?
A: You have access for life! PLUS you'll get all the updates, offers and bonuses when I update the training in future too!
Q: What if I decide it isn't for me?
A: Simply email [email protected] and let us know. Please ensure you have read through the terms and conditions of refund, I stand by my 100% money-back guarantee within 30 days of purchase. No worries. BUT, I will also tell you that I'm obsessed with bringing the best product to market I can. So rather than refunding, I would ask you to get in touch with us at [email protected] and we can work on creating something customized to YOUR needs.
Q: What if I need help from a professional?
A: I specialize in strategy, consulting and run an amazing agency too. If you are looking for more support then in the first instance please use the contact form on this page www.aysedurmush.com/contact to let us know what you are looking for and we can direct you to the right team!
Q: Do I need any special equipment of knowhow?
A: You don't need anything special for this training other than a device to access the portal - so that could be your phone or your laptop. You don't need anything else.
Q: What if I am just too busy?
A: Listen, life happens! But it's not an issue at all, as this is a self-study program so you can go at whatever pace is right for you.